Ever wondered what it's like train like an elite UFC fighter? I tried Dustin Poirier's strength and conditioning workout and here's what it did to me.
That's Dustin Poirier. If you're not a fan of mixed martial arts, he's one of today's elite lightweight competitors. He's a former UFC interim 155-pound champion who scored one of the most notable victories of 2021, so far.
These days, anyone who topples the UFC's golden child Conor McGregor gets a massive boost on their stock, and rightly so. Since that victory, Poirier now sits at the number six spot of the UFC's pound-for-pound rankings.
But I'm not here to talk about Poirier and his accomplishments. If you want to know more about "The Diamond," you'll find a ton of his highlight videos on YouTube like this one.
I'm here to talk about one of the workouts he did in preparation for the McGregor fight at UFC 257 in January. Thankfully, his strength and conditioning coach Phil Daru made it available for us common folks to try out, which I did.
Dustin Poirier's Quarantine Workout
Poirier did this particular routine while quarantined for two days in a hotel room in Las Vegas right before flying off to Abu Dhabi where the fight was held. All he had with him was a small mat space and a lot of time to kill.
Let's have a quick rundown of the entire program:
1. Sprawl to sit out 2. Shadowboxing 3. 1-2 combo to penetration shot 4. 1-2-3 combo to sprawl 5. Mountain climbers 6. Kimura sit-ups 7. Hip bridge – turtle – peak out (repeat each side) 8. Push-up to hip thruster 9. Shadowboxing 10. Double-leg mountain climbers
That's one set of exercises that are timed for 30 seconds each. Daru didn't specify the rest period in between each one, so I timed it at five seconds.
You'll repeat each set five times to mimic the five five-minute rounds (25 minutes in total) of a UFC headliner fight. Each set is broken up by a minute-long rest period.
Here's the killer: Daru encourages activity during that rest period by doing some core work like planks or v-ups.
The Results
I've been doing this exercise for the last two months. I know that's not a long enough time to get significant results, but I did notice some minor changes.
I won't post any before and after ab photos like many others would. That's just not my style. The changes I'm talking about were mostly with my grappling conditioning.
Throughout this pandemic, I've only been able to put in a few grappling rounds. I went from training at least thrice a week to zero activity for more than half a year.
The first one I did was in November with a couple of friends. It was my first sparring session in eight long months, and as you may imagine, I got my ass handed to me.
These friends of mine were less experienced than I was and I'd usually get more taps than they did. But this time, the tables were turned. I was tapping out constantly as if I was back in week one of grappling class.
It wasn't a big deal, because as they say in jiu-jitsu, "You win or you learn." But that rolling session just sent me a message that was loud and clear: "Get yourself back in shape, you sloth!"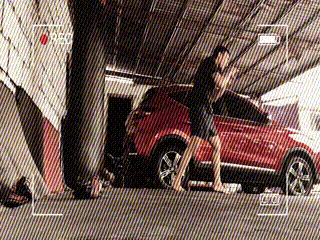 Granted that I was rusty from the months of inactivity, but I was catching my breath the first minute in. And during this time, I made sure to do 30 minutes on the heavy bag at least three times a week. I thought that would be enough, but I was rudely mistaken.
It was that experience that urged me to finally take my strength and conditioning a lot more seriously, which I never did in my five years of active competition.
Fast forward to my next grappling sessions which began in February. Around this time, I'd already been almost a month into the Poirier workout.
I started training with my then-girlfriend's 14-year-old son, a tall, lanky young man who had the natural ability and explosiveness to boot. I incorporated some wrestling and takedowns into our training for him to learn, and to get myself back into the swing of things.
Well, I was able to handle these sessions a lot better. I wasn't as tired, and I found myself being more in control of my breath.
But what surprised me the most was that I was able to match his explosiveness, which was never part of my game. I've always been the smaller guy in the team, and I'd usually rely on pure technique to get by. Now I have a little something dish out.
You can choose to take my word for it or not. But I encourage you to try this routine for yourself. You may or may not experience the same results, but I what I'm damn sure of is that it's one hell of a workout.
The Routine
Now, let's go through each exercise one by one. Each of these workouts is tailor-fit to an MMA fight and serves a specific purpose.
Sprawl to Sit Out
This is a typical drill that wrestlers do. The sprawl happens when the opponent stuffs your takedown attempt. You then sit out and exit on one side to get to a more dominant position or at the very least, create a scramble.
Here's the practical application.
Shadowboxing
Shadowboxing is a warm-up drill, more than anything. You usually do it at the beginning of each workout to get the body moving and the blood flowing.
In this case, it's an added cardio workout. These aren't limited to punches, by the way. Feel free to add some elbows, knees, and kicks.
One-two Combo to Penetration Shot
In an actual fight, this drill gets your body used to throwing a two-punch combination that's immediately followed by a takedown. It's quite taxing and involves some explosiveness, but it will greatly benefit you once you get used to it.
If you're doing this solely for exercise purposes, this will burn a lot of those unwanted calories.
One-two-three Combo to Sprawl
This drill is more for defensive purposes. The 1-2-3 will be your offense, then the sprawl will be your counter to an opponent's takedown attempt.
Like the previous one-two shot drill, focus on your explosiveness on this one. It will pay dividends, I tell you.
Mountain Climbers
You're now at the halfway point of one set, and you should continue pushing the pace. I may be a sadist, but I love how the mountain climbers activate all of your muscle groups in that short amount of time.
If you feel like giving up, don't. This is the part where you conquer your inner bitch and soldier on.
Kimura Sit-Ups
This is the part of the workout where you give yourself a little breather, while still working out your core, particularly the obliques. Unlike regular sit-ups, the kimura sit-ups also entail some explosive movement.
The drill is meant to execute a kimura, a shoulder lock submission done in Brazilian Jiu-Jitsu, submission grappling, and catch wrestling.
I can talk more about this (and other nifty tricks) in another post.
Hip Bridge – Turtle – Peak Out
Daru created this workout to focus practical positions in a fight, and hats off to him. Exercise number six will train you to get out from the bottom position while trying to ward off fatigue from fully setting in.
Here's a practical application of the drill. The hip bridge creates distance between you and your opponent. The explosive movement to turtle gets you out of a troublesome position.
From there you can either secure a single-leg takedown or in this case, peak out, as the first exercise taught us.
Push-up to Hip Thruster
We're on to exercise number seven. By this time, your stamina bar is deteriorating faster by the minute. So how do you act on it? More explosive movements.
You might be tempted to skimp on this drill, but don't. Dig deep into that push-up, as if you're doing a burpee, then thrust your hip forward with gusto. You'll thank yourself for it later.
Shadowboxing Round Two
You're almost at the end of this set, and what better way to keep yourself busy than another round of shadowboxing.
Again, your inner bitch might tell you to take your foot off the gas pedal and coast through the workout. But don't. Keep pushing. You're almost there.
Double-Leg Mountain Climbers
We're closing off the set with double-leg mountain climbers. It may look like nothing, but you will feel its wrath during this stretch of the workout.
Here's a tip: since you're probably wiped at this point, you can pace yourself. You can do three mountain climbers at a time, take a one-second breather, then go again.
The Dreaded Core Workouts
You're not done, so don't relax just yet. After you've completed the five rounds, you'll give yourself one last push with the dreaded core workouts.
Begin with minute-long planks. Make sure you have your shoulders activated to prop you up, abs pulled in, glutes squeezed, legs glued together. Do this for three sets.
Then the side planks. Keep your arms at a 90-degree angle, lats locked and tight, hips pulled up. Be sure you're stable enough to not stumble forward and backward. Do this for 45 seconds on each side.
Last but not the least, v-ups. Start the exercise on your back with both above your head. Bring both hands up as your legs simultaneously rise to a 45-degree angle. Exhale as you do this drill.
To complete the exercise, slowly bring your hands and legs to their original position at the same time. Do this 25 times.
And there you have it. Dustin Poirier's UFC 257 quarantine workout courtesy of American Top Team's strength and conditioning guru Phil Daru.
If you want more of his expert tips and programs for your own quarantine workout, you can check out his Body Armor MMA bodyweight program. I personally haven't tried this yet but based on how Poirier's routine helped me out a lot, I can say with confidence that this program won't disappoint.
Disclaimer: I may earn a percentage in commissions for every purchase you make through the affiliate links I've provided above. Doing so would be a huge financial help for me to continue providing you with content that would hopefully add value to your lives. Help a brother out!